Garden Beds
Our garden beds are a great long lasting ready to go solution that will complement your garden. Manufactured from 304 stainless they will out last all other garden beds on the market.
The best news is that our beds are fully assembled ready to go , and our delivery team will carry it in and put it in position for you.
Many lesser beds look the same but are manufactured from inferior cheaper colourbond zincalume that will corrode when in contact with soil.
Price wise they are economical when compared to the cost and labour of building a raised bed from timber sleepers or bricks.
The beds come standard without a base to sit in your garden bed or lawn. We can add a base if you would like to place it on concrete or a paved area.
All garden beds can be made to suit your measurements. Simply measure your space and contact us for pricing.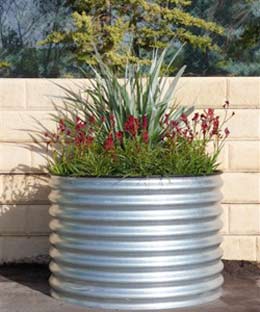 Round
Our round corrugated garden beds fit well in a corner or to make a statement in the middle of your garden. Easy to walk around our round garden beds come in a range of sizes from 800mm diameter up to 3500mm diameter and are a standard height of 800mm. Other heights are available upon request.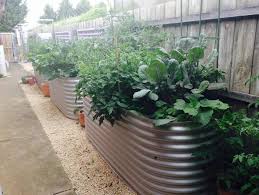 Slimline
Great solution for tighter spaces and ease of access. Either on its own or in a cluster of garden beds our slimline gardens beds will stay looking great your many years to come. Internally braced so the side walls will stay straight and true when filled with soil. Widths start at 600mm and go up to 1200mm. Lengths range from 1800 upto 4000mm long and the standard height is 800mm. Other heights are available upon request.