Garden sheds
We can add a door to any of our tanks to make them a shed!
These sheds are super strong and watertight, being fully spot welded and assembled. No assembly required and very sturdy. Our she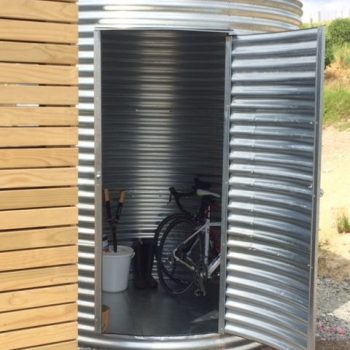 d doors close well and are a far higher security rating than most shed on the market.
The best thing is we deliver them and carry them into position ready for you to use. No fiddly assembly required !!
We make the sheds to your size requirements, so they fit just right for your given space and you wont bang your head. Use the size-a-tank system to see what shed sizes are available (all tanks can be turned into a shed) .
Available with or without a floor they are suitable to be placed on flat ground or pavers.
If you want an elegant shed solution for your yard, which will not be flimsy and you don't have days to spend putting it together, then our sheds are a great choice.
Our sheds will last a life time!