Filters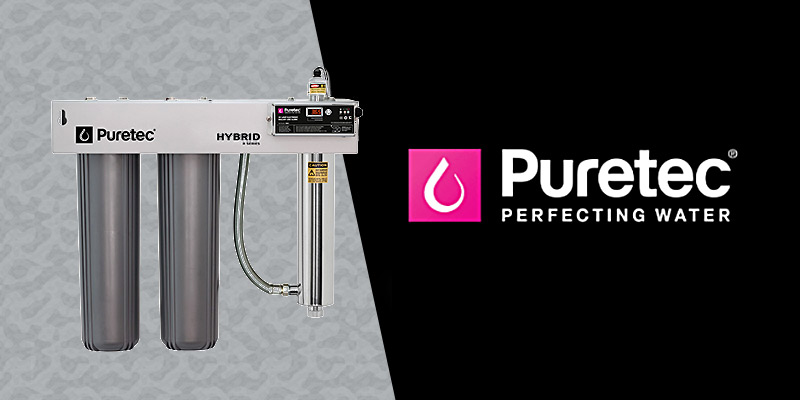 Our range of PureTec filters can complement your tank with filtration down to one micron for the absolute best water possible. You can choose to filter your whole supply or just have a filter under your sink to filter the water for drinking purposes.
We have chosen to partner with Puratech as they are a quality manufacturer and their filter will outlast other less expensive units. One main way the cheaper units fail is splitting of the plastic housing or failure of the thread. If this occurs when your not home then you could lose all your water as the pump will start and will run untill the tanks is empty. Start out with a quality unit and you will have peace of mind and not be throwing a cheaper unit into landfill in the future.
If you want complete peace of mind for your filtering you can also add a UV system which uses the UV light to sterilise the water in addition to filtration.
Whilst filters are an important component its just as important to make sure your gutters and roof is clean to stop any containments entering your tank in the first place.
Our range of filters include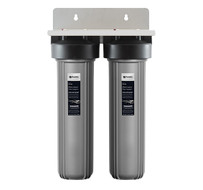 Cartridge filters – Available in 10 inch or 20 inch versions . The Puretec EM2-110 system is the appropriate choice for providing safe, clean, healthy water throughout the house or the office. Provides maximum filtration with minimal flow restriction these high flow systems, ensure that your home is free of sludge and sediment. Some models additionally reduce bad taste and odours. These can be used as a single unit or doubled up as shown.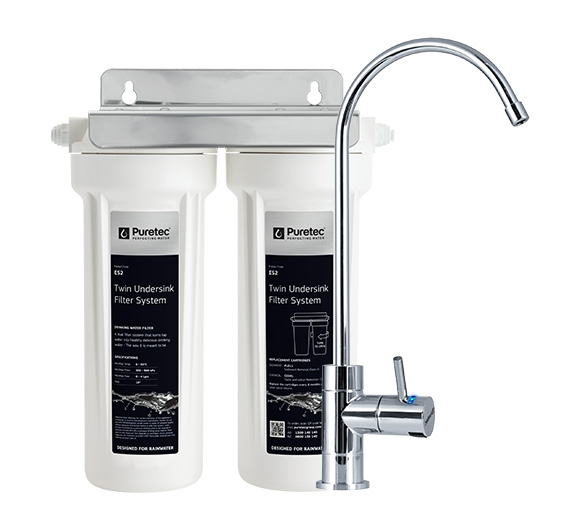 Under sink filters – The Puretec ES2 Series is designed for alternative water supplies. It turns your rain or bore water into safe, delicious, great tasting water for cooking and drinking. It uses ceramic cartridge technology to physically filter harmful bacteria (E. Coli, Shigella, Salmonella, Klebsiella, Cholera), lead, chlorine taste & odour, turbidity and sediment down to 0.2 um. The cartridge is silver impregnated to prevent bacterial growth. This economical filter system will easily fit under your existing kitchen bench. All plumbing fittings are included for easy installation.Especially suited to just filter your tank water where you use it for drinking water.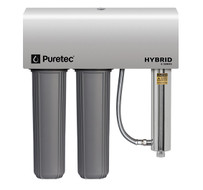 Complete packaged system - Fully assembled system including UV radiation. Puretec Hybrid-G6 provide safe and purified water at every tap. Designed for both mains and rainwater supply, this filter system is highly effective in eliminating 99.99% bacteria and parasites in your water. The water is first filtered by the twin cartridge filters and then the water passed thru a chamber of UV light which sterlilise the water.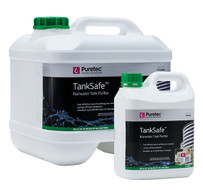 Water Purifier - Innovative product that you pour into your tank water if you notice odour or sour taste. It can kill up to 99.9% of all germs, bacteria and viruses in your stored water. Drinking untreated water can be unsafe and lead to illness. TankSafe™ is an alternative to dosing with chlorine. It is tasteless, odourless and chlorine free, designed specifically for tank water disinfection. TankSafe™ is low cost and non-toxic. TankSafe™ will stay in your tank and keep it protected from bacteria and pathogens for up to 2 months. 1 litre treats 15000 litres of water.